Why?
To celebrate the completion of the latest Nottingham room, Daylight Robbery. Cryptology decided to go do an Escape Room trip to some venues that had been recommended in Barcelona and Budapest. As one-third of the escape team was from Yorkshire we decided to choose our next destination from Budapest based on nothing more than price.
Advice and Meat…and Beer
Our number one piece of advice for potential travelers is to not to book your flight in the middle of a major storm, Ciara tried her best to ruin our best-laid plans and we had to delay one of the escape rooms by a couple of days due to late flights. Instead, we arrived in a chilly Budapest in the dead of night and ventured out for some food to fill our souls ready for the next day of escaping or attempting. We discussed over a 52000HUF platter of meat, rice, and chips what the next day would hold and how it would stack up to the rooms we had done in the UK. Between the group, we have over 100 escape rooms under our considerably expanding belts.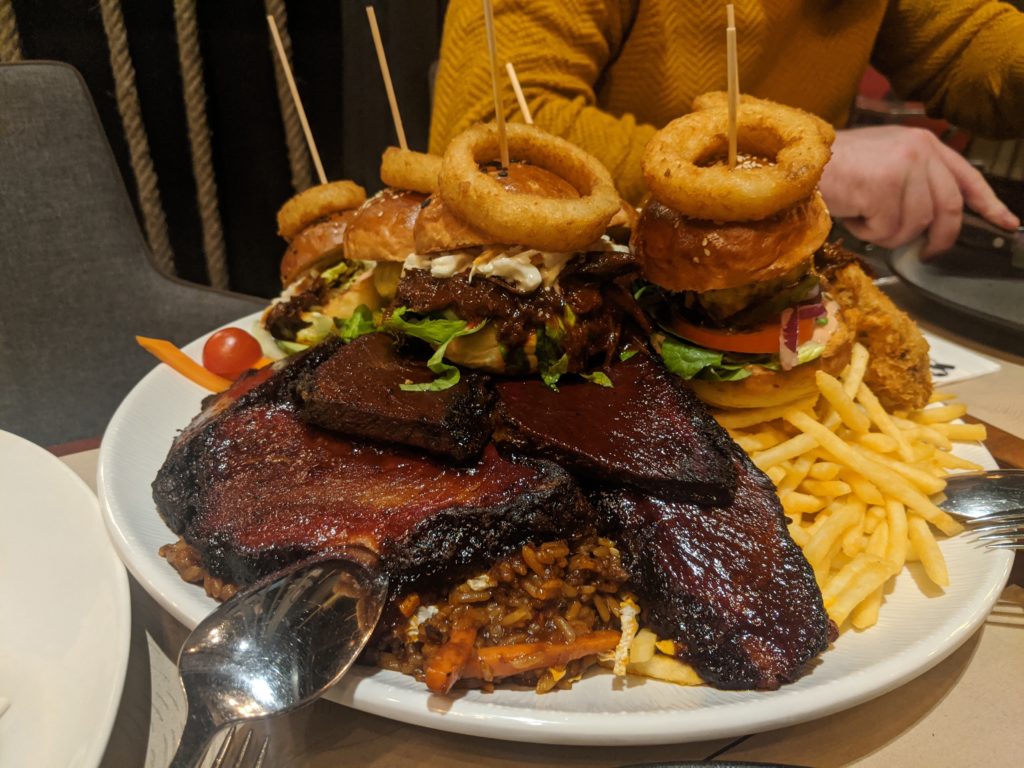 Escape Budapest
We started the day with a walk to the first venue, Mystique Room. They had a large array of rooms to choose from, from which we chose; The Cube, The Time Machine, Alice and The Pharaohs Burial Chamber. In all of the rooms, the set design was fantastic and you felt like each one was its own micro-world. My only bugbear was the use of a walkie talkie in all areas. A walkie talkie does not fit in with the theme of the majority of rooms and let's be honest they are a pain to understand/listen to and sometimes get forgotten. The standout game from this venue was 'The Cube' a pristine build, with no padlocks and a real feel of the futuristic.
Enigma and Scooters
After we had finished at Mystique we quickly realised that walking the distance to the next venue, Enigma, was not achievable. How could we get all the way across Budapest without the need for running (it has been a while since I last run). Then, like a white a green flash a Lime scooter flew passed. Yep, we were sold, downloading the app and finding the three nearest scooters we spent the next several minutes giggling like little schoolboys as we flew at an entire 22km/h towards our next escape.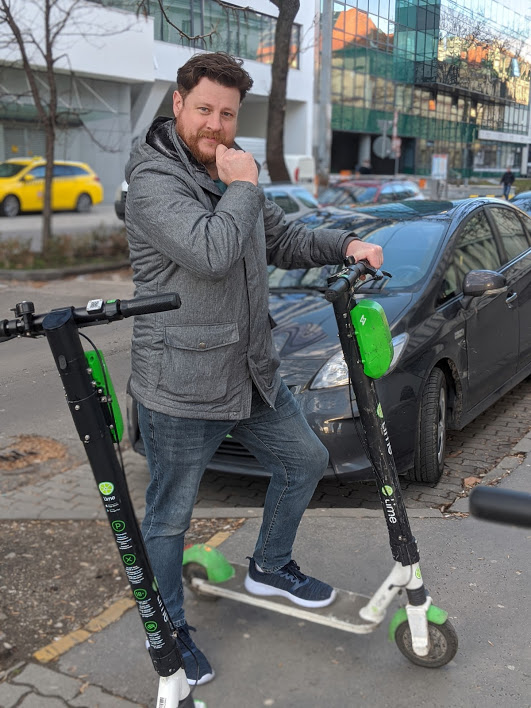 We arrived just in time and the lovely host ushered us in and we were briefed on what was required. I will say that as a venue this seemed a little run down, but the puzzles were so strong it made up for our initial reservations. A good mix of puzzles that at times made teamwork an absolute necessity. I also got to slide across the floor like a slug and I can proudly say I am quite….sluggish.
Back on the scooters to find some food and some beers as we had a little time before the next game that had us excited. Mark had mentioned that this game was something else. We turned up to the venue and I saw a slide, I knew this would be good. The host Dave was an enthusiast and gave an impassioned brief that really set the tone for the rest of the games, oh yeah the games, Santa Muerte and Secret Subway at E-Exit. WOW, what a game I don't remember a point where our jaws either came off the ground or we weren't giggling at the thought of what was next. A true masterpiece of tech, story, and theme. I will not say more otherwise….spoilers!
Locked In Escape Rooms
Our final games of the Day were at A-Room and their sister company Locked In and we did House of Escobar and Research Base. House of Escobar was the standout performer and was a room that as a group we clicked with. Strong puzzles, great theming and a thoroughly enjoyable game. After this, we needed refreshment in the shape of a pint glass and painkillers for our backs and feet. We ventured to the Ruin bars to sample the local ale. Although to be fair there were more Brits than locals it seemed and it is one hell of a crowded area.
Making Up for Storm Ciara
The next day we decided to catch up on the missed game on the first night, White Mission and this was one that has been in Budapest for a while and had no backstory. You simply go in and have to get out, as a traditional premise for an escape room as you can get. The game was anything but traditional. Although I seemed to only see a small number of puzzles as I was the only one who had not done a specific puzzle, the game was enjoyable and worthy of the time.
The Blind Exhibition
We also got back on our beloved scooters and headed over to the Buda side to check out the Blind Exhibition. I was confused as to what this would be, but after a slightly awkward start where nobody really knew what was going on (All our faults as we had gone with no idea what was involved), we were given a tiny impression of what a blind person goes through living in a city and what they experience. Our host was great and even got us a drink at the end in a pitch-black bar. I would say this is a must-visit as it is an educational and fascinating experience.
Barcelona Bound
That night we flew to Barcelona, without hiccup this time. Tomorrow would bring a different style of an escape room.
To be Continued…….