The second leg of our European tour, we chose Barcelona. The post of the first leg in Budapest can be found here. This blog post is to talk about the trip, logistics, Mark's opinion of the games – hopefully spoiler-free, but some nuances of the game which may be better left as a surprise if you are going may play the game. The ratings for the game are in their subtitle, and are out of 7.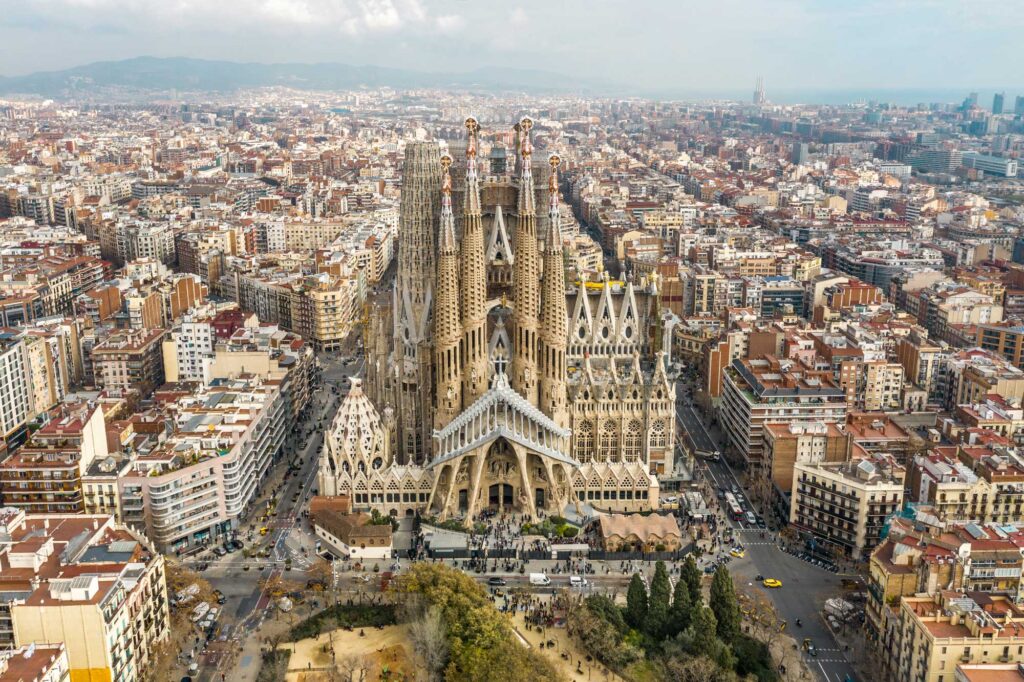 We saw some escape room enthusiasts and some friends recently recommend a trip there. There was also the TERPECA (Top Escape Rooms Project) which had quite a few games in the top 100, and the fact the flight cost £20, it was a no-brainer.
We were led to believe that the Escape Rooms in Barcelona are more about the experience than the time, and now in hindsight I do not recall a single clock in the games we played.
The Escape Room Planning
Unlike Budapest, the escape rooms in Barcelona were quite spread out. I used the TERPECA list to get destinations in the city we could do in the 24 hours we were there. With travel time it made this quite a tricky logistics exercise! I calculated that if we did 5 games in the day, they averaged 13km or 37 minutes apart, with transport! I added extra time for faff and food, and a held my fingers crossed my logistics worked!
InMortal Room: El Diamante De Almas: 10am – 6/7
When I booked this, I didn't think or clock on to that fact that it was a "scary game". The game seems to be quite out from "the thick of it" and is a 15 minute walk from the Metro.
We were greeted in the most unique way we have experienced an Escape Room so far! It really sets the scene amazing well for the game.
The game transitions between quite a few rooms/locations, and the puzzles throughout are varied and well-executed. For those a little nervous about a scary game, there's just the perfect amount of humour in the game to make this an amazing experience.
Looking back on all the games we played in Barcelona, this one carries the most memorable moments, and this is very much down to the GM we had. In character throughout, and a very good debrief at the end where he was just himself. His English was amazing and he is a credit to the industry.
This game set the bar very high for the day, Mark rates this as 6 out of 7.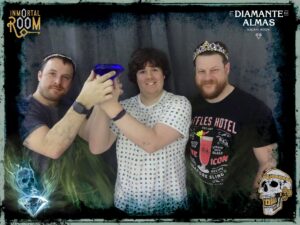 Enigmik: La Cerveceria – 1pm 6/7
We were a team of three, and this game said for a minimum of four. We asked if we could do it via email, and yes we could (although we had to pay for the four). What was pleasing though is that there were parts of the game where you really should have needed 4 players, it's not just done for profiteering sake.
We opted for a cab because of the 15 min walk to the Metro, this location was 11km / 24min from the previous. This game felt in quite an urban area, and we had time to go to a local café and have a nibble and a drink. The game was around the corner, and our mission was to brew beer!
This game had some great physical moments, and a great technological interface for the brewing part of the game. This was a solid escape room, no ambiguity and with varied tasks. We also had a clue system which was a tablet/phone hung around our next. We were also given an RFID wristband which gave us a specific role in the brewing process, a great touch!
The conclusion of the game had an ice-cold beer rise up as we talked through the game. Another great game which is well-deserved of the 6 out of 7.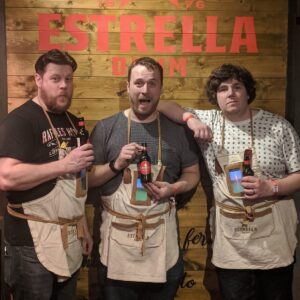 Escape Barcelona: Tomb Hunter : Akasha's Legend – 5pm 7/7
The Metro was our choice of transport to get to this game, there was another 15 minute-or-so walk from the stop, to a more residential area over the Besós River. We had some time to kill, so we sat in the February sun by the river.
The mission briefing email stated we needed to have a particular mark (tattoo) on us to be able to enter this game, a great touch. The game started as soon as the door opened, and were led blindfolded to the game. Another GM who was integral to our experience, and her English was good.
This game was something else. The set production, the things that happened, the size of the game… all things which surpassed anything I had ever seen before. I would have loved to have seen the floorplan to this game, because it's genuinely huge! The finale of this game I thought was superbly done, and made the most memorable experience of the trip for me.
When I booked this game I asked if their Alien game was free for when we could play it, it was unfortunately booked (the Alien was the second rated on the top 100 list from this company). I can see why this got the top Spanish game, and the 6th in the World. The good side of this though, I want to go back and see more from this company. This game easily achieved the 7 out of 7.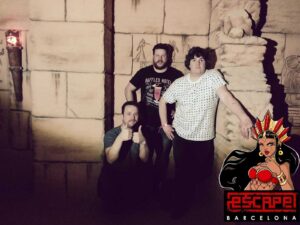 Maximum Escape: Ulysses Spaceship game by Maximum Escape – 7:30pm 6/7
Compared to the other games we played, this game felt like a commercialised chain. Not saying this as a positive nor a negative comment, the other 3 games we had played seemed to be from a small and passionate team. These had Whatsapp notifications, flyers everywhere, and a reception that showcased all their games. The location of this game really seemed to be in the thick of it.
The GM greeted us as herself, excellent English, and then went off to get changed to get into character for our mission briefing. She escorted us down into our game and left us to our own devices.
The game had some good video (I can't recall if we watched a screen or had VR helmets for the intro), tactile puzzles, and parts where the group needs to split to communicate with each other. The clue system you carried around with you, and I found it marvellous! A space game should have some good tech in it, and I think what was used was very well implemented. The game set in some of the latter parts of the game was amazingly well done. Another game very well deserving the 6 out of 7, I would be keen to see more of the games they offer.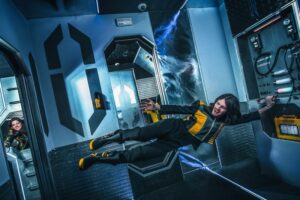 Not that I knew this when I booked it, but this game was a 10 minute walk from our AirBnB. Another quite residential area of Barcelona, this was the last game of our whole trip.
This game starts of in a small room, and we had trouble (this is not a criticism, the puzzles were well-designed and they do not jump in to help you when they understand their game and know you will get there in the end) getting out of this first bit. It broke out to another medium sized space. After solving a few things here, boom, the game opened up to a truly massive game. It had some good puzzles in here, a nice touch of tech!
I am only giving this 5 out 7, and I still feel 8 months on this is correct. I think the other games were of outstanding quality, and this is not saying this is not. Do not confuse the 5 out of 7 with this not being great, I would recommend this game for anybody and everybody. It feels (only in comparison to what we played) a little dated.